The introduction on the home page of my website says:
"In Speech or Song, Everyone Wants to be Heard!!"
And, having said that, podcasts have become the most personal platform for educating the public about, well, anything!
Successful podcasts require skills from the host and guest which are very different from reporting the news on radio or tv or being the host or guest of a talk show. News is supposed to be delivered dispassionately…"just the facts, Ma'am…" and a guest appearance on a talk show is brief. Usually, the host is directing the conversation in such a way that there is only enough time for the guest to plug his or her new movie, book, recording, or cause.
Podcasts go deeper and are more intimate. It's all about YOU…whether you serve as the the host or guest! Your story, message or response needs to be succinct and entertaining. I have a client by the name of Brittany Arnason, who has graciously allowed me to to reveal her identity and share her recent podcast episode for https://www.biggerpockets.com.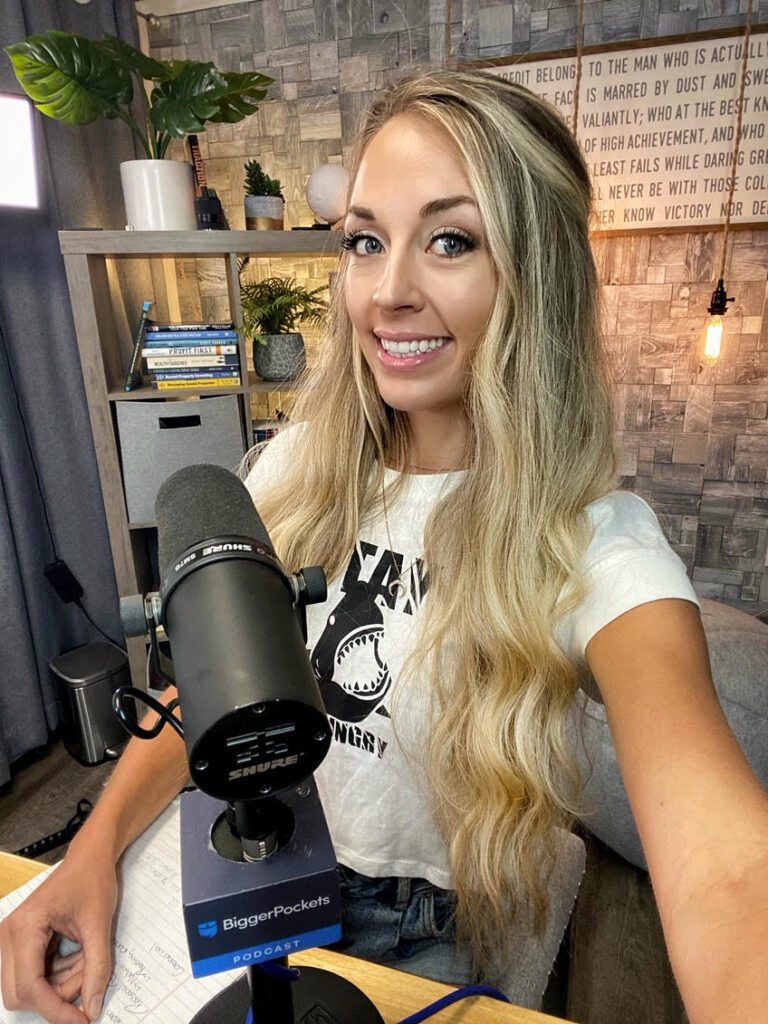 Brittany is a young star in the Real Estate world! She has 228,000 followers on Instagram and if you check out her Instagram page, you will understand why! She has posted a very generous batch of videos of herself rehabbing the properties she owns and sells and they are really fun to watch! Here is her Instagram address:
https://www.instagram.com/investorgirlbritt/

Here is her website address:
https://brittanyarnason.com
She has a big story and is someone to be inspired by and learn from. The opportunity to share her story on the BiggerPockets Podcast is another career booster!
Podcasts are interesting to me from a performance point of view because a lot of podcasts today are being developed, hosted and populated by guests without any professional training! If you are a guest or host that fits that category, have you considered how you sound or how you create succinct and impactful content for broadcast? Do you have a great vocabulary and are you well-spoken? Does your current way of presenting ideas and information honor the content you will be sharing or do your issues with possibly awkward delivery divert the audience's attention away from that content? Brittany and I worked on all of these issues and the result was first-rate. I was very proud of her performance!
According to audible.com there are at least 1.3 million people who listen to the BiggerPockets Podcast. Here is a link to the podcast!
https://www.biggerpockets.com/blog/biggerpockets-podcast-470-investorgirlbritt
Some of the important issues I focus on with podcast hosts and guests include voice quality— modification of pitch or nasality and actual sound quality and the organization and delivery of your content. Have you developed a style of delivery that imitates other speakers you admire, but doesn't sound like you at all? Are you able to get to the point in the most compelling way, quickly? Have you have shaped your presentation in such a way that inspires your audience to regard you as the expert you are about the topic being discussed?
Everyone is very different, so my training is custom designed for each individual. Each of your issues are remedied in a way that takes care of YOUR needs. There is no "one-size-fits-all" training at the Sheila Dugan Voice and Speech Studio.
I would like to share an excellent podcast episode I just got to hear in the past few months. This outstanding podcast offering is about women in the law. If I was a young woman thinking about becoming a lawyer, or a young attorney establishing her career, this particular conversation would have inspired me! I thought both the host and guest were terrific! Great voice qualities, clear questioning from the host and succinct answers from the guest made this informative hour move along quickly.
The podcast is called Women in Law on the Record and is the creation of Allison Stewart, a young attorney at the Dallas law office of Greenberg Traurig. Her guest is my daughter Kate Dugan Kolta, the General Counsel of Energizer Holdings.
Early in her career, Kate was a lawyer at the Chicago office of Greenberg Traurig. Allison is a terrific host and has generously given me permission to share this podcast with you. Here is the link to the episode:
https://womeninlawotr.libsyn.com/episode-no-61-kate-dugan-energizerassociate-general-counsel
And here is the link to the podcast itself:
https://www.womeninlawotr.com/
I hope you have enjoyed listening to both of these podcast examples! Please feel free to give me a call if you need some help in your adventures as a podcast host or guest!
PS: I have chosen the black-eyed susan flower to represent this blog post because this is the flower that represents justice and the law.