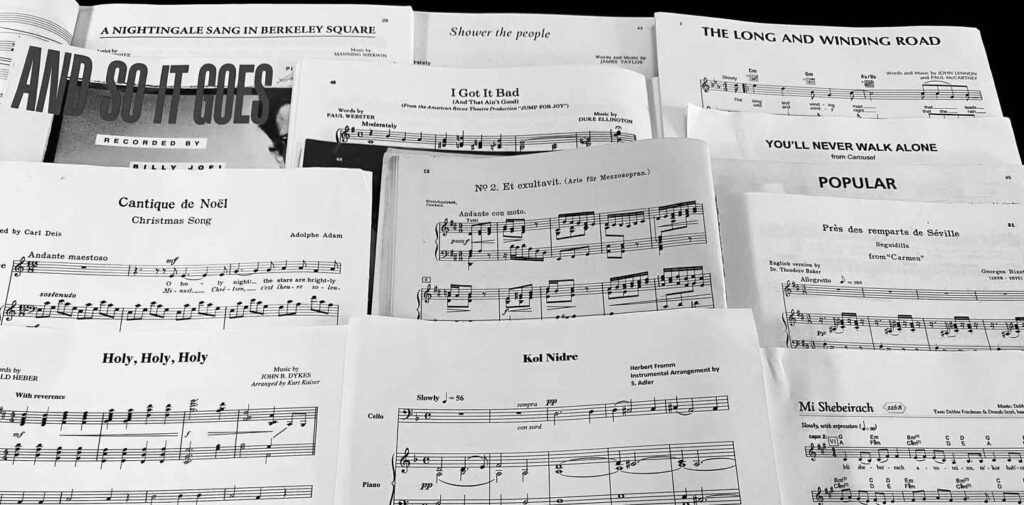 In part, this is what my professional life has been all about: Words and Music — and how they are presented by a Singer or Speaker so that an audience, or an Other, is enlightened, delighted, or profoundly moved. The photograph in the header of this page is a picture I took of a minuscule sampling of the types of music I am privileged to bring to life from the page with my Singing students. Represented in the photo is sacred music of various faith expressions, classical vocal literature, musical theatre repertoire and pop. I have worked with vocal music lyrics in American English, English (British dialects), Scottish, German, French, Italian, Spanish, Greek, Chinese, Punjabi, Hindi, Portuguese, Hebrew, Yiddish and let's not forget the songs without words!
Words are the currency we use to sell, to inform, to negotiate, to comfort, to persuade, to teach, to discipline, to praise, to shape and to pray. We manifest our successes by the words and energies we use to attract opportunities to ourselves and then we mold those opportunities to fit our individual skills and talents.
Music colors our lives. It deepens a memory, moves us to tears, to laughter, to rest, to patriotism, to spirituality, to the  sacred and the profane, to love, to death, to life.
Words and Music have been the bedrock of my professional life. Thank you for checking out what I have to share with you!